AZKOMPOZİT ACHIEVED ISO 9001:2000 CERTİFİCATE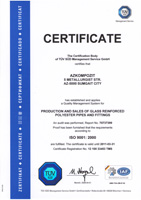 The presentation ceremony of the certificate of conformity to ISO 9001 international standard by German certification company "TÜV-SÜD" to Azkompozit firm was held.
The director of Azkompozit firm Rasul Bakhshaliyev addressing to the guests with speech informed about the development of GRP pipe production for the recent years in Azkompozit, the technological lines of which are based on modern equipment. In his statement he noted that from the beginning of the last year Azkompozit became the largest factory in the world as a single factory involved in GRP pipe production. At present there are 15 production lines functioning in Azkompozit and the number of employees exceeds 1500 persons.
Beginning from the December 2006 the factory manufactures GRP pipes for Oguz-Gabala-Baku water pipeline project. Having the overall length 265 km the pipeline is built of pipes of 12 meter length and nominal diameter 2000mm. This pipeline project is the biggest in the world with application of GRP pipes.
Considering the significance of the project to ensure the quality of the manufactured product and it's continual improvement the works on implementation of ISO 9001:2000 international standard begun last year. This standard comprises a separate control of all processes affecting on the quality of final product. Upon meeting the requirements of the standard and achieving the required level in Quality Management one of the more famous certification bodies in the world TUV SUD was chosen to assess the efficiency of established QMS.
The auditors of TUV SUD were invited to Azkompozit to carry out an independent certification audit. According to the result of audit held the Quality Management System set up in the Azkompozit was considered as per requirements of the standard and issuance of a certificate of conformity to the company was decided.
Member of board of administration of TUV SUD Ahmet Gurel informing about activity of the company said that TUV SUD was founded in 1866 in Menheim , Germany as a technical control organization. At present possessing more than 13000 employees worldwide TUV SUD is one of the biggest certification and technical control companies in the world.
The audit held in Azkompozit factory by TUV SUD is the first project realized by the company in Azerbaijan Republic .