GLASSFIBER REINFORCED POLYESTER PIPES
Glassfiber Reinforced Polyester (GRP) pipes and joints produced by УAzkompozitФ compose a corrosion resistant piping system designed for use in both gravity and pressure applications. The pipes are produced by helical filament winding technology. The structure of pipe is formed of a resin-rich reinforced liner, structural walls and stiffness core.
Internal layer Ц liner with its extreme smooth surface and rich content of resin creates consistent barrier against physical and chemical erosion.
The resin applied in this layer has high mechanical and chemical resistance that makes the pipe completely suitable to transport either potable or sewerage water ensuring 50 years of minimum service life.

Structural walls consist of multiple radial and helical layers wound at different angles according to winding scheme. Axial and circumferential strength values of pipe are adjusted by the winding angles.

Stiffness core is composed of finely graded pure silica sand and applied between the structural walls.
GRP pipe is suitable and approved for use in potable water systems, municipal and industrial sewerage, seawater and corrosive environments with a temperature range of -40∞C to +70∞C.
Nominal pipe diameters (DN): 400 - 3000 mm.
Nominal pressure classes (PN): 1-32 bar.
Nominal stiffness classes (SN): 2500 Ц 10000N/m2†† and more (upon request).
Standard pipe length: 12 m (it is possible to manufacture pipes of any length).
УAzkompozitФ GRP pipes can be manufactured to meet the requirements set in AWWA, ASTM, EN, ISO standards as well as other industry and government specifications.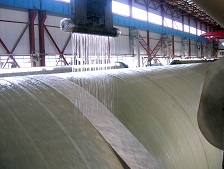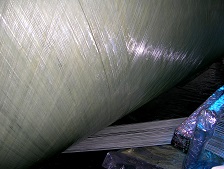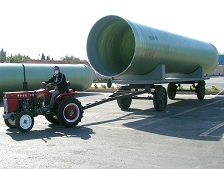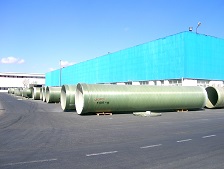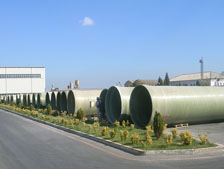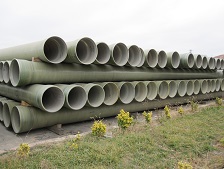 DN3000 FIBERGLASS PIPE