Composites are those materials which are produced by using two or more materials.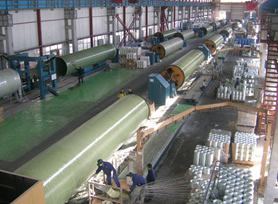 Glassfiber reinforcements and thermosetting resins used in the production are the main components of GRP Pipes.
The production of the pipe and its sections by advanced filament winding technology is realized by impregnating glass-fiber mats and rovings in the resin and their winding onto rotating mandrel. At present the company runs 15 GRP pipe production lines. Production of various fittings and joining elements is also set up in the factory.
Winding pattern of glassfiber rovings define pipe's mechanical properties and selected resins systems define its chemichal resistance.
High mechanical and chemical properties of GRP pipes produced by helical winding technology enable their wide use in industry and everyday life.
In order to diversify its product range Azkompozit LLC has adopted various production technologies of FRP composites:

·   Pultrusion technology enables production of FRP structural profiles and construction of many corrosion resistant structures with their use
·   FRP molded grating technology enables construction of platforms and pedestrian areas that are mainly installed in offshore and other corrosive environment.
·   Sheet lamination technology enables production of FRP roofing sheets and side wall panels.
·   SMC (sheet molding compound) technology enables production of manhole covers and other durable FRP products.

In 2008 the quality management system of Azkompozit LLC has been approved by German certification body TÜV SÜD to comply with requirements of ISO 9001 standard.