The following production technologies are present in the Company: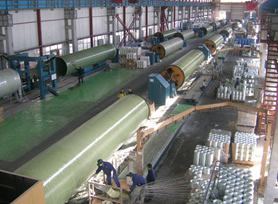 Helical filament winding method – pipes from DN400 to DN3000 of any configuration.
Pultrusion technology – fiberglass structural profiles and assembling of the large number of anti-corrosive structures with their use.
Technology of fiberglass molded grating - used as a flooring in all aggressive environments.
Technology of continuous sheet lamination - fiberglass roofing sheets, facade panels etc.
SMC technology (800t press molding) - manhole covers and other durable products made of fiberglass.
Hand lay-up or lamination technology - composite products upon custom specifications, as well as virtually all types of pipe fittings.

In 2008, "Azkompozit" Quality Management System was certified by the German TÜV SUD certification body in accordance with the requirements of the ISO 9001 standard.
.